Students attend Missouri State Thespian Leadership Conference
Hang on for a minute...we're trying to find some more stories you might like.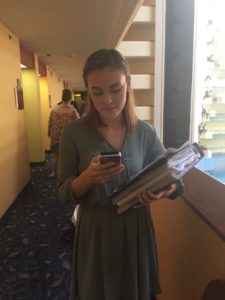 On September 10, Pattonville's Thespian Troupe officers went to the Missouri State Thespian Leadership Conference. President Sophie Vic (12), Vice President Abby Schnable (12), Secretary Abby Rosebaugh (12), and Historian Emily Tobar (12) drove to Jefferson City in hopes of learning new techniques and ways to run their troupe.
"The purpose of the conference is to get ideas for your troupe, as well as set examples in your troupe." Rosebaugh said. "We learn what it means to be a leader and why a leader should be different."
During the conference, the officers attended several workshops on how to improve and run their troupe. The Missouri State Thespian Conference offers a variety of workshops, which students can choose from in order to learn what best fits their needs.
Rosebaugh attended the scholarship workshop to learn more about the scholarships troupes can receive when they attend the State Conference in January. The other officers attended their own specialized workshops and learned some valuable information.
"I personally learned a lot about how to combat negativity within a theatre group," Schnable said. "I learned about other schools troupes and the things they do."
Tobar was also able to learn things to bring back to Pattonville.
"We learned different leadership techniques, improv Olympic information, along with tech challenge information."
Although the main focus of the trip was to learn, the officers had lots of fun.
"My favorite part of the trip was catching up with everyone from all the different troupes, along with learning new ways to better ourselves." Tobar said.
Rosebaugh's favorite part was duck decorating.
"We painted little rubber ducks to help raise money for an organization," Rosebaugh said. "We also got third place for getting alumni to sign up for something on the Missouri Thespians website. As a reward we got cool little water bottles."
Even with all the fun and games, the troupe officers learned a lot and plan on using what they learned.
"This trip hopefully is going to make our theatre department a lot closer," Schnable said. "I've learned so many things on how to get people to come to bonding activities."
Rosebaugh topped it off by adding, "Current thespians should look forward to lots of troupe bonding."
[portfolio_slideshow id=19819]