Finding a dress for homecoming can be a stressful experience
Hang on for a minute...we're trying to find some more stories you might like.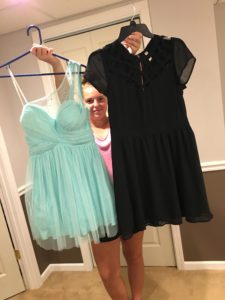 Homecoming is a very stressful time in any high school girl's life. In fact, shopping for a dress is every girl's nightmare.
Trying to find the perfect dress is especially hard. Finding the right hair style and the perfect make-up is also very time consuming.
For junior Katie Stevens, homecoming isn't about finding the perfect dress, it's about trying to find a cheap, manageable, dress knowing that it won't be worn again.
"I always try to find a dress that's below $40 at most," Stevens said. "I won't spend $200 on a dress that will only be worn for 3 hours."
On Friday, Sept. 16, Stevens spent her night searching for a dress instead of going to the home football game at Pattonville.
"I really wanted to go support the team, but Hoco is a week away and I still didn't have shoes or a dress."
Stevens traveled to eight stores looking for a dress that was in her budget.
"I went to Macy's, Kohl's, J.C. Penney's, and five other stores to just find a simple dress," Stevens said. "Finally I found a dress that would cut it for Hoco. It's blue and sparkly. Perfect for one night."
As stressful as homecoming can be, Stevens seems to really enjoy it.
"Homecoming overall is a fun experience," she said. "You get to dance and everyone looks so nice. You also get to have a blast with all of your friends."