Pattonville hosts annual North County College Fair on Sept. 29
Hang on for a minute...we're trying to find some more stories you might like.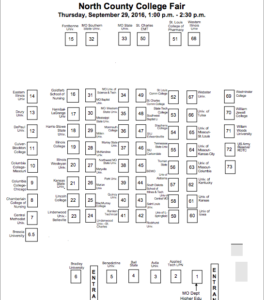 Over 70 universities, community colleges, and technical schools will be attending the College Fair at Pattonville High School on Sept. 29 from 1-2:30 p.m.
The event will be held in the main gym of Pattonville High School and all grade levels are welcome to attend to start exploring college options or even talking to the college they might want to attend.
Preregistration can be done online which allows the student to print out a barcode to use for the colleges to scan.
Colleges that are attending include Missouri State University, University of Missouri, University of Kansas, and University of Alabama.
Students can visit with college counselor Ms. Michelle Luraschi or visit her website for more information.
Other opportunities for students include:
COLLEGE FAIR AT PHS, Thursday, September 29 from 1:00-2:30:

 

Over 70 universities, community colleges, and technical schools attending.

 

All students can attend.

 

Register at

gotocollegefairs.com

.

 

COLLEGE VISIT:

 

Tuesday, September 27 at 1:00pm:

 

DePaul University (Chicago) visit
COLLEGE BUS TOUR to see Mizzou, Lincoln U, Rockhurst, Central Methodist, UCM, and KC Art Institute.

 

Get a pass from Ms. Patrick, in the Guidance Office, to attend the info session on Thursday, September 29 at 9am in the College Center.
COLLEGE BUS TOURS TO:

St. Louis Community College Nursing Program, November 4
Truman State University, November 16

See Mrs. L for field trip forms.