Marching band provides a night for seniors and 8th graders
Hang on for a minute...we're trying to find some more stories you might like.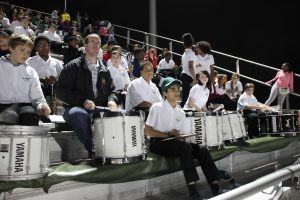 The Pride of Pattonville Marching Band had two very important events on Sept. 30. It was senior night because it was the final regular season home football game and it was the band's annual 8th grade night.
Every year, 8th grade band students from Holman, Heights, and Remington get to perform with the high school marching band. Those students come to the Tuesday night practice a few days before the football game in order to meet with the high school band and work with their instrument sections.
On Friday night during the football game's pre-game, the 8th graders ran out with the band onto the field to spell out PHS and play all the tunes before going into the stands. It was on Tuesday that they practiced running out and forming their letters.
The marching band also performed the entire halftime show for the 8th graders.
The week following 8th grade night, the 8th graders kept asking the directors about the marching band. The marching band was able to inspire many of them to potentially join next year.
"They kept asking to see the show," band director Mr. Denny McFarland said.
The game served as senior night and all the seniors were given uniforms to give to their favorite teachers to walk down the track with them. Besides their selected teacher, seniors got to march down the track with their parents. Seniors were also given white flowers to pin on their uniform.
"I picked Mr. Simmons," Nathan Skelton said. "He has been a teacher of mine every year and is the closest teacher and mentor to me."