Gay Straight Alliance club selling bracelets on National Coming Out Day
Hang on for a minute...we're trying to find some more stories you might like.
National Coming Out Day is Oct. 11 and Pattonville's Gay Straight Alliance club is selling bracelets to help raise funds and awareness.
"We are selling them to help raise money for the club because we don't have a lot of funding," sophomore Sydney BoClair said. "The money will be used for going out of our school to help other people who might not be as fortunate with their support system as we are and are having a hard time."
Bracelets went on sale Monday, Oct. 10, and will also be available at all lunches on Tuesday. The glow-in-the-dark bracelets are available for $1 each.
Gay Straight Alliance, or GSA, at Pattonville High School, was created because club members believe that everyone should have a voice, not just straight people.
"I joined this club because I think that everyone should have the right to love and happiness," BoClair said.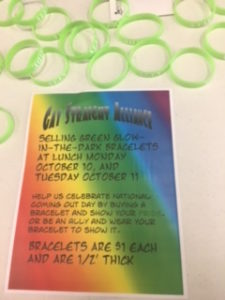 Bracelets are to be worn to show pride or to be an ally of GSA club members. Each 1/2 inch bracelet is $1 and has the word Ally printed on them.