Sign language interpreter will be on hand for Thursday's show of Little Women
Hang on for a minute...we're trying to find some more stories you might like.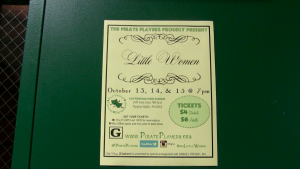 Pattonville will be providing a sign language interpreter on Thursday night for the fall play for those who need it. Guests that are hard of hearing can purchase a ticket at the box office and request to be in the hard of hearing section.
Last year, an interpreter was provided during Pattonville's spring musical of Cinderella because senior Morgan Stubblefield's grandma is deaf. Stubblefield played the role of Portia.
"She's been deaf since the day she was born, though it hasn't held her back in any way," Stubblefield said. "She knows how to talk and is very fluent in sign language. I was happy that she got to enjoy the show like everyone else and didn't have to miss out on such a big event."
Junior Emma Stubblefield played French horn in the pit for Cinderella and said she loved seeing her grandma in the audience.
"It made me really happy to see my Grandma out in the audience," Emma Stubblefield said. "I feel like a lot of high schools, middle schools, and elementary schools don't really cater to people who are hard of hearing or have other disabilities, such as sight issues. I feel like Pattonville has stepped up to the plate for that issue."
The Stubblefield sisters' grandma will be in attendance on Thursday, Oct. 13, to see Morgan Stubblefield play the role of Marmee March.
If a patron needs a sign language interpreter for any future shows, they need to call the school and request for an interpreter on a show night of their choice.