Pattonville orchestra to play its first concert on Thursday, Oct. 20
Hang on for a minute...we're trying to find some more stories you might like.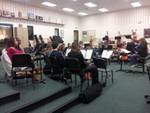 The Pattonville Chamber, Concert, and String Orchestra musicians will be having their first concert of the year on Oct. 20. They will be joined on the theatre stage by the high school choir.
It's a bittersweet moment for senior Breanna Merritt. This concert will kick off her last year in the Pattonville orchestra.
"It almost scares me in a sense because I've been playing with the Pattonville Orchestra since 5th grade," Merritt said. "It was just small, rinky-dinky concerts in elementary school, and to know this is my final first concert at Pattonville High School is scary."
Merritt reflected on her high school career and how her views of orchestra concerts have changed.
"It makes me realize that people are right when they say high school flies by because I feel like just yesterday I was a freshman just starting and feeling scared to death of a big orchestra with people who had more experience than I did, but it's very eye-opening in a sense"
For freshman Lily Smith, she sees this concert as her first opportunity to show how hard she has worked.
"I'm very excited, especially since I'm in Chamber my freshman year," Smith said. "At the same time, I am also super nervous."
The orchestra's performance will begin at 7 p.m. in the high school theatre.