Wheelchair Basketball Game sponsored by PALs is on Nov. 3
Hang on for a minute...we're trying to find some more stories you might like.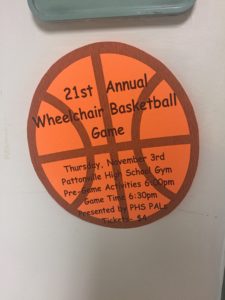 The 21st Annual Wheelchair Basketball Game between the St. Louis Jr. Rollings Rams and the Pattonville High School staff will be Nov. 3 in the high school gym. Admission is $4 per person.
The PALs class sponsors the fundraising event and students are gearing up for it.
Kelsey Van Hook said they have put a lot of effort into making sure the night turns out great.
"We have been going to local businesses and have been asking for donations to help make baskets for the silent auction we have," Van Hook said.
The game tips off at 6:30 p.m. and pre-game activities will begin at 6 p.m.
"We have worked really hard on preparing everything, so it would be great if people came and showed their support," Roma Patel said.
The night will consist of many activities including a halftime dance performed by teachers, a free throw contest and the silent auction.
All of the money raised will go to the Rolling Rams and help them pay for travel expenses to and from their tournaments.