Musical auditions to be held Nov. 7 and 9
Hang on for a minute...we're trying to find some more stories you might like.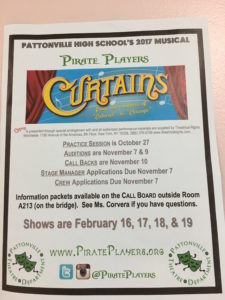 The curtain has closed on the fall play and the Pirate Players are now prepping for their winter musical: Curtains.
It's a comedic murder mystery about a show within a show. A local detective tries to figure out who killed the cast's leading lady while also trying to figure out the mystery of why the show is looking to be a flop on stage.
To audition on Nov. 7 and 9, students must go outside of director Ms. Lara Corvera's room (A213) to pick up an auditioning packet and theatre handbook. This is also where students will sign up for an audition slot.
Corvera said inside the available handbook, there are all kinds of tips for auditioning, more ways to get involved in theatre, and a permission slip to say that rules and guidelines will be followed in the auditorium.
In the auditioning packet, there's a pass to go down to Ms. Melynda Lamb's room on Thursday, Oct. 27, to practice the song that will be sung during the audition. Also in the auditioning packet is the monologue that does not have to be memorized, but should be looked at ahead of time.
Of course, to have a musical theatre production, there must be a little dancing involved. So before the audition, a short dance will be taught to everyone. No dancing experience is necessary.
"Learning the dancing part is my personal favorite," Haley Reynolds said. "But what I really love is call backs on Nov. 10. That's when you can see what everyone else can do and bring to the table. It can be a bit nerve racking sometimes, but it's so much fun."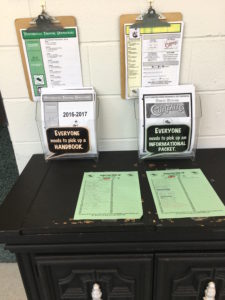 There are also behind-the-scenes roles for students to participate in. There's props, lighting, sound, stage crew, set construction/painting, costumes/make-up, and box office to choose from.
Although being on the musical crew still requires commitment and dedication, it's not quite as time demanding.
"If people don't want to be on stage and still want to participate in theatre, they should definitely do crews because it's just an amazing experience," Samantha Steinmeyer said, who served as costume crew leader of the fall play, Little Women. "You get to help put on an amazing show which gives you a sense of pride, not to mention spending your time with great people. The theatre community is like a family, and being a part of that family is truly one of the best experiences I personally ever had."
The Pattonville Players auditions will be held at the high school on Nov. 7 and 9. Call backs are Nov. 10 and the show will be performed Feb. 16-19 in the high school auditorium.