Pattonville cross country runners are racing their way to Sectionals
Hang on for a minute...we're trying to find some more stories you might like.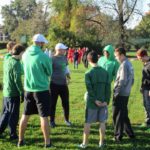 Six Pattonville cross country runners have made it out of districts and are now on their way to race at sectionals.
On the girls side, Maryah Dominick, Da'esha Heard and Karen Rosales finished in the Top 30 and qualified to move on to the next round.
For the boys, Micah Thompkins, Robert Gibson, and Lucas Gibson crossed the finish line in the Top 30 earning them a spot in the next race.
Junior Maryah Dominick is one of the three girls who are advancing to sectionals this Saturday at Warrington High School.
"Making it this far feels so amazing," Dominick said.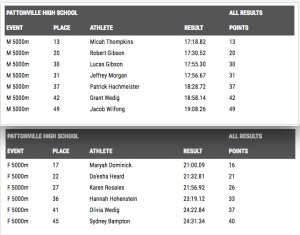 The boys' and girls' teams are both undergoing different training regiments.
"We're really just keeping it easy for most of the week so our legs can be fresh for Saturday."
Dominick was able to make it out of districts by running 3.1 miles in exactly 21 minutes, her goal for Saturday is to run under that time.
The boys' cross country team is making adjustments as well before the next meet.
Sophomore Robert Gibson has made it to Sectionals along with two other teammates of his. Gibson completed the district race with a time of 17:30 and he hopes to run his sectional race in under 17 minutes.
"Right now the work load is getting smaller and we are decreasing our mileage to focus more on getting faster and letting our previous work take over," Gibson said.
Not only has he changed his workouts, but he has adjusted his diet to cutting out unhealthy food and eating more carbs and protein in order to be in the best shape possible for the upcoming meet.
Both Dominick and Gibson have made it to sectionals for track, but this is their first time making it for cross country. The 2016 Cross Country Sectional race will be held at Warrington High School on Saturday, Oct. 29.