Wheelchair Basketball Game tips off on Thursday at 6:30 p.m.
Hang on for a minute...we're trying to find some more stories you might like.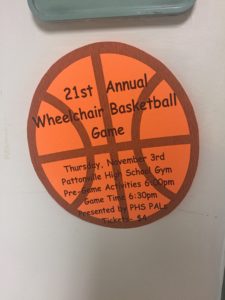 The Wheelchair Basketball game is an annual fundraiser to raise money for the St. Louis Jr. Rolling Rams Wheelchair Basketball team.  The Jr. Rolling Rams is a team of students from 1st through 12th grade who travel and play in tournaments against other wheelchair basketball teams.
In order to help team members with their travel expenses, all of the proceeds made from the game on Nov. 3 at Pattonville against the high school staff is donated back to the team.
Tickets are available for $4 each and will be sold at the door.
The event requires a lot of participation from the Pattonville PALs and the high school faculty and staff. The students organize the event, but the adults play and participate by dancing at halftime.
The high school staff will play the Jr. Rolling Rams in a wheelchair basketball game following the same rules they use in tournaments. Teachers will be in a wheelchair and will have to dribble or carry the ball on their lap and attempt to make shots.
In the 21 years of the teams playing, the teachers (1-19) have won just once.
The event starts with a pre-game show with performances by JV and varsity drill teams, the PHS Pep Band and Choir. There are also performances by the Jr. Pirates Drill Team and cheerleaders.
Fredbird will be there to provide entertainment and after a half of watching the Pattonville faculty play the Jr. Rolling Rams, the halftime show begins which includes performances by the JV and Varsity Cheerleaders (who will also be performing throughout the game), a halftime raffle for prom tickets where students will attempt to make a free throw from a wheelchair and the always anticipated dance performance by the PHS Faculty.
Throughout the entire game, spectators can bid on Silent Auction baskets and the PTO will have the concession stand open.