Pattonville has three selected to all state choir
Hang on for a minute...we're trying to find some more stories you might like.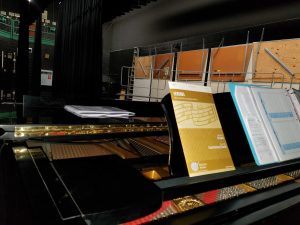 Pattonville had three singers selected for the all-state choir when the high school hosted the St. Louis Suburban District Honors Choir performance on Saturday, Nov. 5, in the Pattonville auditorium. There are three different Honor Choirs: The 9th -10th grade honors choir, the women's honors choir, and the 11th-12th grade honors choir.
St. Louis Suburban District selects the top 4 singers in each voice part for the All-State Choir. The students are scored on two separate vocal auditions, key signature identification, and two sight-reading lines.
Pattonville had three students selected for All State: Marissa Dickman, Aaron Garner and Ben Moser.
Marissa Dickman, senior, soprano
-Marching Band-Drum Major
-Concert Band-French Horn
-Opera Theatre of St. Louis Artist in Training (studies voice with professor at UMSL)
-2nd Year All-State Choir Member
-Pit Orchestra
Aaron Garner, junior, bass
-Orchestra – Cello
-Many years in St. Louis Children's Choir
-Voice Studies with Dr. Carter of Webster University
Ben Moser, senior, tenor
-Orchestra-String Bass
-Jazz Ensemble- String Bass
-Pit Orchestra
-All-State Jazz Band – String Bass (2 years)
-Jazz U at Jazz at the Bistro
-St. Louis Symphony Youth Orchestra
Pattonville High School's Choir Program was in the Top 3 in the area for number of students selected to both the District Honors Choir and the All-State Honors Choir.
During the District Honors Choir performance on Saturday, singers were directed by clinicians who led each choir. Reese Norris led the 9th-10th group, Joelle Norris led the women's, and Cameron LaBarr led the 11th-12th graders.
Students made it in to Honors Choir after an audition in September, and met on Tuesday Nov. 1, from 6- 8:30 p.m. to go over the music they performed on Saturday.
"I look forward to Honors Choir because it gives me a chance to meet new people and challenge myself with music I haven't seen before," junior Josh Royal said.
There are about four pieces per group. Students do not get a long time to rehearse with the entire choir, and have only about 6 hours that Tuesday and on Saturday to practice as a full group.