Girls' swim season has started
Hang on for a minute...we're trying to find some more stories you might like.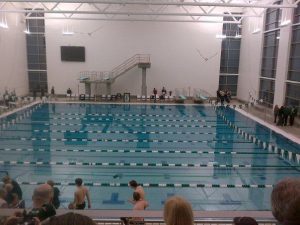 With practice starting on Nov. 7 and the first meet on Dec. 2 against Francis Howell North, the kickoff to the girls' swim season is underway. The girls are excited to see what this season will bring.
"I think this will be a really good season," Madelyn Hubbs said. "We have a lot of new people that came to the opening meeting, and I think there is going to be a lot of new freshmen, and it's going to be a great start."
Many of the girls have been working hard to get in shape in preparation for the upcoming swim season.
"I have been preparing for the season by swimming for a club team year-round and doing some extra workouts," Felicity Tso said.
There will be many new faces on the swim team this year.
One of the newcomers is foreign exchange student Kochakorn Sirisongkram from Thailand.
"I am excited for tryouts but I am nervous too," Sirisongkram said. "I did swim back in Thailand, but it is different. I am excited to see how swimming is here."