Students prepare auditions for school musical, Curtains
Hang on for a minute...we're trying to find some more stories you might like.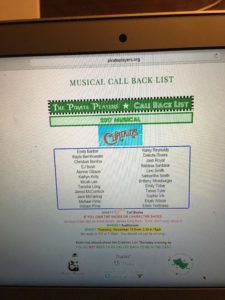 The callback list for the high school musical, Curtains, was made available and theatre students are scrambling around to prepare for their audition.
From the list of 24 students that are called back, a select few will emerge to fill the lead roles.
Some people wing it and hope for the best, but others review what they did during the initial audition and work to improve their performance.
"For me, I think it's best to do what feels most natural," Eldrick Bush said. "I like to go into it with little to no information before hand."
Others, like Haley Reynolds, spend countless hours trying to prepare as much as they can for the audition.
"I try going into the audition knowing as much as I possibly can so that way I'm prepared and know background information and make my performance more believable," Reynolds said. "I looked up the synopsis on Wikipedia, the character list, listened to the music, and thought about dance steps that might be incorporated into the show that we would be asked to perform at the callback. I put a lot of thought into it because I only want to bring my best game."
The cast list will be posted after all auditions are made.