HUMANS OF PATTONVILLE Handrahan's survival story
Hang on for a minute...we're trying to find some more stories you might like.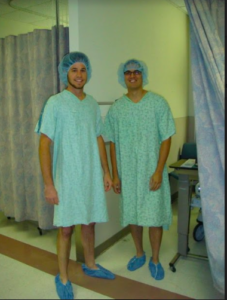 People can live with just one of the two kidneys that they are born with in their body. But they can't live with no functioning kidneys. When new Pattonville counselor Mr. Patrick Handrahan was in high school, something that started as strep throat somehow traveled to his kidneys, and his body reacted by attacking the kidneys.
"If you ever get a strep throat, make sure you go to the doctor and get that taken care of," Handrahan said.
Then during his freshman year of high school, he found out he had an incurable kidney disease. Having such a disease calls for major diet and lifestyle changes. He had to cut out meals with large amounts of protein, sodium, and potassium and he also had to learn how to exercise on a regular basis.
He had to limit his meat intake to no larger than a deck of cards, and anything high in potassium had to be cut out. Bananas, French fries and potatoes all had to go. He knew that in order to live a good and healthy life he needed to make major changes, and he's grateful for that.
The doctors told him that within a year, he would need to have a transplant. He made it 13 years before he actually had one.
In 2007, he had a kidney transplant.
He found out that his friend who was supposed to give him a kidney was unable to donate it. The next day he got a random phone call from his friend John from college, asking if he should get tested to see if he was a match and able to give away his kidney.
"He literally just called out of the blue and offered me his kidney," Handrahan said.
To his luck, his friend was a match. His friend flew to St. Louis all the way from New York and donated his kidney.
Every year on Oct. 3, Handrahan thanks his friend by buying him a sandwich, he also named his first kid after his friend John.
"I guess it was what I was supposed to do: Buy him a sandwich once a year," Handrahan said. "A kidney for a sandwich."
Even though he had to face major life changes, he wouldn't change a thing.
"It's one of those things," Handrahan said. "I learned how to live better."
Along with diet and exercise changes, he developed similar likings to his donor.
"I never enjoyed running until I got my friend's kidney, who is a long distance runner," he said. "He also liked mint chocolate ice cream which I didn't like until the transplant."