HUMANS OF PATTONVILLE Smith is an out-of-town fan
Hang on for a minute...we're trying to find some more stories you might like.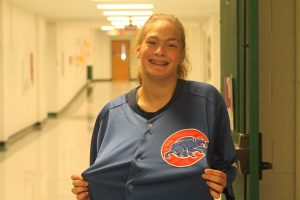 Many people living in St. Louis were rooting against the Chicago Cubs during the World Series because they didn't want to support the hometown's baseball rival.
But senior Cheyenne Smith was seen walking through the halls of the high school decked out in Chicago sports gear.
She didn't hide who she was cheering for on the Cubs run to the championship title.
"I grew up about 10 minutes outside of Chicago, so we would always go to Wrigley and all that," Smith said. "We're hockey fans mainly, but with the Cubs, baseball is a good sport to watch."
With the Cubs being the World Series champions, she was able to wear her Cubs gear proudly.
"Honestly, it's actually really relieving because they waited 109 years," Smith said. "It's honestly good to have that feeling as a Cubs fan that they were in the World Series and they won."
It has been a long time since the Chicago Cubs have won a World Series, so it brought a lot of excitement for Smith and Cubs fans all over the world.
She said she sometimes walks around and gets harassed for wearing the opponent's jerseys.
"I don't let it bother me. Like a lot of people will let it affect them, but it doesn't affect me or bother me," Smith said. "I mean I do live in St. Louis. You got the Cardinals and the Blues, but it's all fun and games because it's the big rivalry."
Smith said now that baseball season is over, she will switch out her Cubs jersey for a Blackhawks jersey.
"That's one thing Chicago's got that St. Louis doesn't," Smith said referring to the NHL's Stanley Cup.
The Blackhawks currently are the top seed in the Western Conference Central Division. The Blues are right behind them in the No. 2 position.