Literary magazine to host an Open Mic Night
Hang on for a minute...we're trying to find some more stories you might like.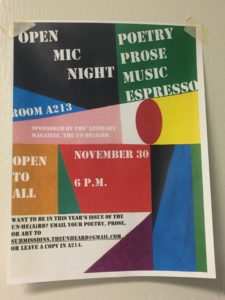 The high school's literary magazine, The Un-He(a)rd, will sponsor an Open Mic Night on Nov. 30 at 6 p.m. in A213. There's going to be poetry, prose, music, and espresso.
"I'm going to Open Mic Night because I like to hear other people's point of views and how others like to express themselves," senior Hannah Decker said. "People can sing, people can read their poetry, people can do an interpretive dance if they wanted to. It's just a great opportunity for other people to show the real side of them."
Anyone wanting to attend is welcome to come since it's open to all. It'll be hosted in room A213 on Wednesday, Nov. 30.
If students want their work published in this year's issue of The Un-He(a)rd, entries of poetry, prose, or art can be emailed to [email protected] or leave a copy the work in A214.