PHS Band Boosters to host Craft Fair on Dec. 3
Hang on for a minute...we're trying to find some more stories you might like.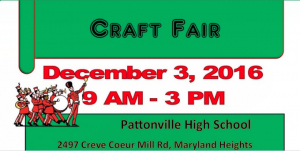 More than 200 crafters and vendors will attend the annual Pattonville High School Craft Fair on Saturday, Dec. 3, from 9 a.m. to 3 p.m. The event is hosted by the Band Boosters to raise money for the band program.
Band members help set up tables in the cafeteria and the main gym the night before and different vendors will come in the morning and set up whatever they have to sell. The band makes money from the event by selling spaces to the vendors and by having the concession stand open. Vendors earn money by selling their products.
Sophomore band member Allison Brown will help set up the craft fair by designating where vendors will be located.
"As part of setting up, I will be marking off sections in the cafeteria for the tables to be set up." Brown said. "This will help the band program because it is a great money maker and will get our band program out to people not just from Pattonville."
During the event, some band members will be working around the school selling food and other items.
Junior band member Caleb Hughes said the craft fair is really great for the band program since it gets the program out to the public.
"It helps us show parents with younger kids who are thinking about joining the band how the program works and maybe pushes them to join while raising a little money too."