Orozco chosen to be part of St. Louis Post-Dispatch 100 Neediest Cases art contest
Hang on for a minute...we're trying to find some more stories you might like.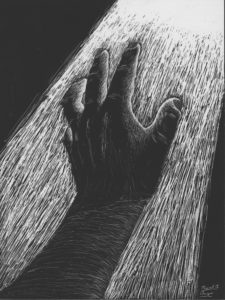 Senior Miguel-Angel Orozco was featured in a bracket competition on the St. Louis Post-Dispatch website.
From the hundreds of entries received, the newspaper created a bracket with the top 32 entries for readers to select their favorite piece. The winning artist will be featured in an upcoming St. Louis Post-Dispatch feature story.
In the first round, Orozco lost the reader vote to Rebecca Lynn, an artist from Edwardsville High School.
Orozco was thrilled to have been selected for this contest and said many of his friends thought he was going to win it.
With his piece, he decided to go a different way with the work than everyone else. While other students used regular paper and pencils, Orozco used scratchboard.
"I decided to do scratchboard because I love how it's the opposite to regular drawing," he said. "Like instead of getting a black outline, you're getting a white outline."
Orozco's family was happy when they heard that he was included in the contest. Many artists were inspired by someone they knew or once knew, but for Orozco, that was a different story.
"I was inspired by this song called "Let There Be Light" by Hillsong Worship," he said.
His artwork and many others are on display at the History Museum until Thursday, Dec. 8.