VIDEO Teachers Spread Cheer in AV for All to See
Hang on for a minute...we're trying to find some more stories you might like.
By Sarah Johnson and Courtney Faasen
With the end of the first semester so close at hand and the daunting task of grading finals becoming more and more real, the Pattonville staff looks to keep their morale up by remembering their children, as they do every year. In the Audio-Visual Center — located between the B and D hallways on the second floor — there is an entire wall of pictures of staff member's children and grandchildren as they have grown.
Ms. Cindi Hall, one of the Audio-Visual clerks reflected on the tradition that dates back to 2000.
"It started with my son, Michael, when he was 2 years old," Hall said. "I missed him so much, so I brought one of his baby pictures to work so I would not feel as bad. Then, the other clerk at the time brought her grandchildren's picture in, and we hung them up."
From there it took off, Hall said.
When teachers who were running copies came into AV, a common point of conversation during the wait was their children. The more they talked about it, the more interested everyone was about their co-workers kids. Soon others were putting pictures up of their children on the wall. It quickly became a tradition, and Hall said in only about two years, the entire wall was full.
History teacher and father of three, Mr. Benjamin Schamber likes the tradition.
"Everyone likes to brag on their kids," he said. "And it's fun to hear how your colleagues' kids are doing."
History teacher Ms. Lori Cole also partakes in this tradition. She has pictures of both of her daughters on the wall.
"It makes it fun, it makes it more personal, and you get to talk about other stuff and families, other than just school."
This tradition brings together the Pattonville family, and gets some teachers, like English teacher Mr. Brian Heyman, very excited.
"I've always gone up to AV and have seen pictures of kids, and my kid is now is 1-and-a-half, and I get really excited that he and I get to be a part of this tradition," Heyman said. "I'm always very excited when I get to share a new picture of my kid."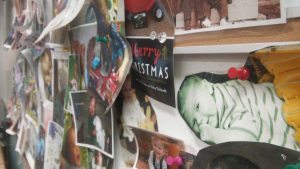 As the years go by and teachers retire, their contributions to the wall also leave. Hall said that while the number of pictures grows, the wall itself does not, and she has to make room somehow. When the teachers leave, they normally take their pictures with them, and as the kids grow up, their younger photos are replaced with new, updated ones. This way, the wall can continue to grow and encompass the entire Pattonville family for years to come.