Jazz artist Mr. Terrell Stafford rehearses with Jazz Ensemble
Hang on for a minute...we're trying to find some more stories you might like.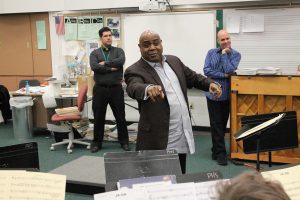 Famous jazz artist Mr. Terrell Stafford rehearsed with the PHS Jazz Ensemble during 4th hour on Jan. 9.
After performing for Stafford, he gave the ensemble advice on how to better their performance.
"He gave us some great tips on how to communicate better as a whole when we play together," said saxophone player Leslie Azwell (10). "He emphasized that movement is important to effectively play a piece."
Stafford impressed the Jazz Ensemble with his simple, yet crucial, advice.
"One of the most important things Terrell said that stuck in my brain was 'You just need to let yourself go and enjoy what you're creating,'" said saxophone player Louis Johnson (11).
Joseph Noble (11), one of the ensemble's trumpet players, appreciated Stafford's logic on never giving up on music.
"I learned that even if you may not sound the best on something, you should always try no matter what," Noble said. "A wrong note is better than no notes."
Some of Stafford's other words of encouragement also encouraged the band members.
"He said no matter how good you get, you won't think it's good enough and if you ever do, something is very wrong," Abigail Twyman (10) said.
Within the performance, selected students were given the chance to improvise a solo part. Azwell and Noble were two of the students who earned an improvised solo.
"The less I think about my improv solo, the better. Improvisation is something that doesn't come naturally to me yet," Azwell said. "I'm still trying to learn and become more comfortable with my own styles."
Stafford emphasized that during improvised solos, it is imperative to let the music guide you.
"He helped me prepare myself for improv by drilling in my head that you just have to feel the music and play instead of overthinking about every note and rhythm," Noble said.
The ensemble also enjoyed Stafford's down-to-earth attitude toward them.
"He was humble and treated us as if we were equal to him," Twyman said.
After the rehearsal, Kayla White (10) talked to Stafford.
"I loved getting to talk to him one-on-one," White said. "The way he interacted with us was just amazing."
[portfolio_slideshow id=21270]