Huffman is a social media star on Musical.ly
Hang on for a minute...we're trying to find some more stories you might like.
Senior Tyler Huffman came to St. Louis from Alabama to move in with his mother for his last year of high school. However, his reason for making this move is a rare one.
Huffman began using an app in July 2015 called "Musical.ly", where he quickly became well-known. And now, a little over a year later, Huffman has a page dedicated to him on "Famous Birthdays."
"I was actually just bored one day so I started looking around on the App Store for a new game to play and I found Musical.ly," he said. "I'm not sure why I decided to check out the app, but I'm glad I did."
Musical.ly is an app that is typically used to create and share short lip-syncing videos. Some videos are used to share music while others, like Huffman's, have been used for comedy. However, becoming recognized through social media can be a difficult task to achieve.
"I had the app for a while but I didn't really post any creative videos," Huffman said. "Then, once I started posting better content, my videos started to get featured on their page. It went from nothing to almost getting featured every day."
Although he began using the app in July, his fame didn't truly take off until that November.
"It happened gradually until one of my videos blew up," Huffman said. "I woke up and I had gained almost 100,000 followers overnight and was even verified on the app. It was such a cool surprise."
In December, Huffman found the page dedicated to him on "Famous Birthdays."
"I was honestly surprised. I found out because one of my friends that I had made on Musical.ly texted me a screenshot."
In spite of that, his growing popularity is the reason why he moved to St. Louis in the first place.
"I had a very active page, but my dad seemed jealous and he told me he didn't want me to make videos anymore and banned me from the app for 2 months," Huffman said. "I was tired of how strict he was and I felt that the situation was unfair, so I moved in with my mom."
His distance from the app, however, resulted in a bit of destruction to his usually-growing account.
"He caused some damage to my page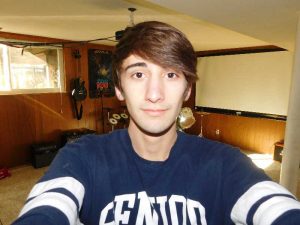 honestly by making me leave for so long. So of course when I got back on the app, my page wasn't as active, but I still made videos."
Despite this setback, Huffman has come to Pattonville High School where he has continued to pursue his passions.
"I came here in July, so I've been here the entire school year and so far I love it," he said. "My old school was way smaller and we didn't have nearly as many options for classes such as art, photography, yearbook, etc."
Upon coming to St. Louis, however, Huffman did not go unrecognized.
"At my old school, I had a lot of people that followed my account. It was kind of funny because they would always say things when I walked by in the hallway," Huffman said. "I've even had some people come up to me since I've moved to this school and say things like 'One of my friends is obsessed with you.' It's funny sometimes."
As the rest of the school year carries on, Huffman has made the decision to give more attention toward his school work and keep his Musical.ly career on the side.
"I made a post recently saying that I was going to slow down with my videos so that I could focus more on school," Huffman said. "I plan on switching to YouTube after I graduate this year."
Huffman can be found on social media sites such as Musical.ly and Twitter using name @tylerhuffmann.