GoFundMe, dodgeball night fundraisers being held for Fisk, Cody
Hang on for a minute...we're trying to find some more stories you might like.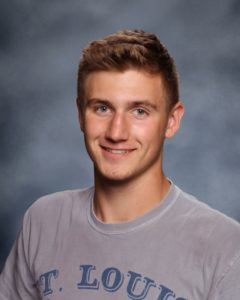 Junior Cory Fisk and former student Matthew Cody were involved in a motorcycle accident on Feb. 5. On Monday, Feb. 13, Fisk died of injuries he suffered.
There will be a candle lighting vigil on Wednesday, Feb 15, held at Holy Spirit in Fisk's memory at 7 p.m.
Efforts to raise money for the families to help with expenses of both medical needs and funeral costs are being held. Both Fisk and Cody have a GoFundMe page set up and are accepting donations to help with costs.
Kierra Haskell said the GoFundMe page has already raised a lot of money.
"We are all just trying to help his family in any way possible in this time of need," Haskell said. "Cory will truly be missed."
A planned fundraising event is a Dodgeball Night scheduled for Saturday, March 11, at Gametime Sports in Chesterfield, Missouri. Money raised will be given to the Fisk family.
 "Everyone is really going to miss Cory," Shannon Wetzel said. "He had a smile that could light up a room. Even though he cannot physically be with us while we're out there playing, I know he'll be with us in spirit."
Dodgeball teams will be made up of 10 players per team and players are asked to pay $20 each ($200 per team). Co-ed teams are welcome, as well as any player ages 7 and up. Team themes are encouraged (wigs, matching T-shirts, etc.) and a full concession stand will be made available. All teams must be registered by Monday, March 6, and each player must sign a waiver before playing.
A close friend of his, senior Karlie Wright, said, "I'm so proud of him for fighting as long as he did and the world is never going to be quite the same without his big heart and smile."
Brandon Carter said Fisk always made you feel special no matter who you were.
"I'm lucky for being able to know him," Carter said. "We're going to play for you."
Contact Kierra Haskell at [email protected] or (314) 791-5844 with any questions.