Illnesses keep students away from rehearsals one week before Curtains opens
Hang on for a minute...we're trying to find some more stories you might like.
As opening night approaches, cast and crew members of Pattonville's musical Curtains have started dropping like flies. Although it's inevitable for some characters in the show to meet their demise, the cast was not expecting to endure a similar fate. With flu season under way, the cast and crew have had their fair share of flu cases, which have continuously sent many actors home in order to recover from the illness.
Senior Kayla Bernhoester, who plays Georgia Hendricks, was the first to go down.
"I started coughing Saturday night, but didn't start feeling really sick until Sunday," Bernhoester said.
Bernhoester ended up missing two days of school and rehearsal, effecting both her attendance and performance.
"My cough made me lose my voice, so for one of the rehearsals, I could only dance and instead allowed the cast to sing my parts," Bernhoester said. "It was actually kind of special to hear everyone help me out. It showed how we really are a family."
Other cast members such as juniors Tamia Tyler and Haley Reynolds have started experiencing symptoms.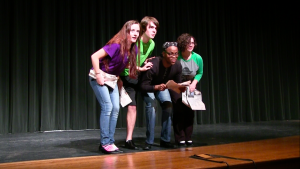 "At first, my throat was scratchy and I thought it was just the weather, then I started developing a headache," Tyler said. "It was hard for me at rehearsals because those lights are bright and only made my headache worse."
Luckily for Reynolds, she has overcome most of the symptoms.
"I drank a lot of water, tea, and ate a lot of soup," Reynolds said. "I also took medicine and got a lot of rest."
Stage Crew Manager junior Louis Johnson is currently going through the worst stage of the sickness.
"I first started feeling sick on Thursday. Now I'm coughing, have a 101.6 degree fever, can't stop sneezing, have a runny nose, and a sore throat," Johnson said. In order to rid of the illness, Johnson is following the same steps as Reynolds.
It is important that the rest of the cast and crew stay healthy by avoiding the illness and by taking precautions.
"To stay healthy, it's obviously important to wash your hands, but also stay away from anyone who starts feeling sick," cast member senior Samantha Smith said. "For those who are sick, it is important to rest. If your throat is starting to hurt, drink tea and use cough drops regularly. And lastly, stay hydrated. Drink a lot of water."
If Pattonville students start experiencing symptoms such as a sore throat, fever, nausea, headache, runny nose, or any of the other symptoms mentioned above, please stay up-to-date with your symptoms and visit a doctor or Walgreens clinic to get tested for both the flu and strep throat.
Despite the illnesses, the show must go on. Be sure to attend Pattonville's production of Curtains February 16–18 at 7 p.m or Feb. 19 at 2 p.m.