Getting a handle on video in the classroom at #METC17
Hang on for a minute...we're trying to find some more stories you might like.
At one of the breakout sessions at METC in St. Charles, Missouri, Mary Lynn and Angela Astuto spoke about getting a handle on using video in the classroom. With technology and the way students are more and more reliant on their devices, they presented on Wednesday the idea of making and using videos to help them teach in the classroom.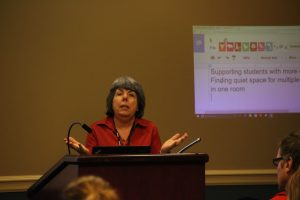 Lynn and Astuto introduced some new ways teachers are using video to teach their classes. One technique is especially helpful when the teacher has to be absent. The everyday teacher can create a video and allow the substitute to show it, letting the regular teacher still teach their students. Some of their suggestions included using webcam recordings, screen capturing, and narrating their slideshows.
"What I like about video is the synchronous options that it gives you," Astuto said. "The fact that students can take your instruction home is certainly something that wasn't available when I was in school. They could re-watch a demonstration of a math problem or an explanation of a concept in history."
They also presented the idea of having students learn themselves and make videos that they can be proud of and share with the world.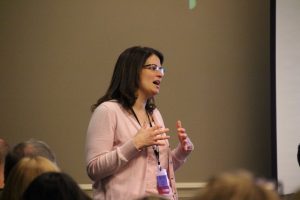 "They can create their own videos, and I think it gives them such an authentic audience," Asuto said. "It's not like doing a presentation in class but something that's more of a creative project."
One of the major points that the pair of presenters made was the ability to reach the students when they're not in the classroom. By using programs like Skype or Google Hangouts, they can talk directly to their students and extend the walls of the classroom. YouTube and Facebook and other similar programs also allow teachers to livestream themselves teaching and as soon as the livestream is finished, it's directly uploaded to the service so anyone could watch it at any time.
"I think live video broadcasts help us retain some of the non-verbal communication," Astuto said. "We can bring someone from another country into our classrooms so that students can kind of better understand the world."
Using videos in the classroom has started to become a new experience, but when used right, classrooms can now be anywhere and at anytime.