Pep band brings spirit to the gym bleachers
Hang on for a minute...we're trying to find some more stories you might like.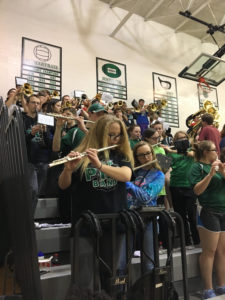 At varsity basketball games and wrestling meets, fans might be hearing music before, during, and after the competitions, and that is all thanks to the Pattonville Pep Band.
Sam Esteep said it's fun to play different music from what they usually play in band.
"We don't have to march or wear uniforms. Also, we have a lot more music to play compared to marching band," Esteep said. "You don't have to like sports, but that does make it more enjoyable."
Playing in the pep band gives Kaitlyn McKinley more chances to play her instrument with friends, and she said she likes the chance to get to hang with them during the games.
"I like to watch sports and play music," McKinley said. "I play music more than I play sports now but I still love sports."
Around 20 to 30 people show up to the band practices before the season and then go to the games to perform.
"It is different than marching band because the games are more fast-paced and intense than football games are," Kyra Correa said. "Also, every game is optional and you don't have to go to every game."
While some games will have the entire band show up, other nights might be less attended.
"It varies on what night and who can make the game," McKinley said.
The band students that support the teams are able to find ways to actually support their education, too.
"I do pep band to get community service hours, play music, and hang out with other band kids," Marley Delgado said. "The band kids in pep band tend to do it because they also really enjoy playing their instruments."