Basketball wins district championship, advances to state tournament
Hang on for a minute...we're trying to find some more stories you might like.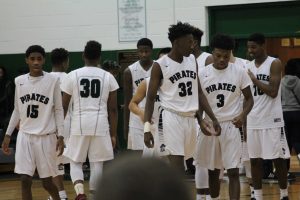 The boys' basketball team won the Class 5 district championship for the first time since 1976. The boys advance to play Chaminade on Wednesday at Lindenwood University at 6 p.m. in the first round of the state tournament.
"I was very excited and happy to become district champions for the first time in 47 years," Jimmy Boswell said.
Many of the Pattonville (19-7) players are seeing this next game as a revenge game. For the past two years, the Pirate Boys have lost to Chaminade in the district playoffs for football. They know they have a difficult task on hand when they take on the Red Devils in basketball.
Chaminade (22-5) is the reigning Class 5 state champion, but had Duke freshman Jayson Tatum on the team.
"Not having Tatum is helping us a lot and hurting them. I have a good feeling about this game," Destan Williams said.
The boys are going into the game with their heads held high and feeling no intimidation from the reigning state champions. This year's squad doesn't have a Division I basketball player on the roster according to the St. Louis Post-Dispatch, but Pattonville has Richard Henderson who has signed with Austin Peay.
Williams plans to go into this game and do everything he can to help the Pirates move on in the tournament.
They will have to do it without the support of teachers in the stands. Due to parent-teacher conferences on Wednesday and Thursday night, many teachers will not be able to go see the game and are very disappointed.
"I'm very said that I won't be able to make it to the game on Wednesday, but I know the boys will do great," Ms. Lisa Foust said.
The game is at Lindenwood at 6 p.m. Tickets will be available at the door.