Yearbook staff promotes last-minute sales of 2017 yearbook
Hang on for a minute...we're trying to find some more stories you might like.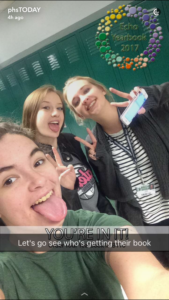 The 2017 Pattonville yearbook has been completed by the Echo staff and will be delivered in May. A few copies are still available for purchase at $65 each.
To help promote last-minute sales, the Echo staff created a Snapchat Geofilter with the yearbook theme's logo on Friday, April 7, in order to promote the sales of yearbooks.
Yearbook editor-in-chief Mollie Emerick believes that this was a great way to get students thinking about buying a yearbook.
"I think the filter was super cute because at Pattonville, we haven't really utilized the Geotag. It was originally Mr. Heyman's idea and I thought it was a great idea."
It also wasn't nearly as expensive as it was expected.
"It ended up only being $12 and we thought it would be way more to cover the area of the entire school," Emerick said.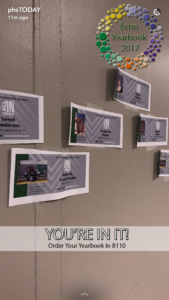 The staff posted flyers on the B- and D-wing ramps with the names of students that are in the yearbook more than twice and still haven't bought a book.
Seeing how many times students are actually featured in the yearbook can really help to sway some students into buying the yearbook. The page numbers they are on is included on the flyer with a preview of a photo that they are tagged in.
"It's really just a promotional thing so that people know about the yearbook because really everyone in the school is in it and we really want everyone to see it," Emerick said. "I aways just say, Snapchats are 10 seconds but a yearbook is a lifetime."
To purchase your yearbook, visit JostensYearbooks.com