Renaissance hosts annual Taste of Pattonville event
Hang on for a minute...we're trying to find some more stories you might like.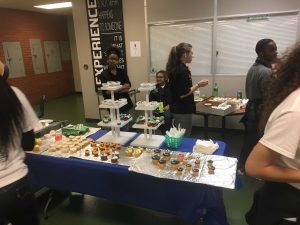 Dinner was served to the more than 500 people that attended the 10th annual Taste of Pattonville event hosted by Renaissance on Thursday, April 6.
This year, 28 different restaurants and local eateries came to the cafeteria to hand out samples of their food. Headliners included Bus Loop Burgers, Raising Canes, and Oberweis.
Not only did professional restaurants bring food, but the Pattonville Culinary Arts classes made hundreds of desserts to serve at the event.
Junior Anayah Bell was one of the students that helped out with the Culinary Arts booth.
"I helped make the cupcakes and we made over 500 cupcakes for the event," Bell said.
At the event, each booth had multiple helpers to handle the food and to mark the attendee's ticket.
"At Taste of Pattonville, I handed out the cupcakes and then got to scratch out the booth number on the ticket after they got their sample."
All of the workers were allowed to buy a ticket as well and Bell said it was one of her favorite parts of the event.
"My favorite part was eating a lot of the food that was there from all of the different places," Bell said.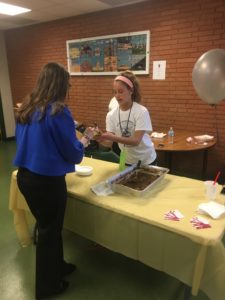 One of the local family-owned restaurants that attended Taste of Pattonville was Tornatore's catering. Sophomore Emily Reyes was one of the volunteers that helped out at that booth and she said it was her first time volunteering at the event.
"I wanted to help out with Taste of Pattonville this year because it is something I have never done before," she said. "I thought it would be something really cool to get involved with and support our Renaissance Club."
Sophomore Alexis Lambros was another volunteer from Renaissance and she helped out at the Chipotle table. She said it was a big change of events for her.
"I usually just bake for the teacher Renaissance games but this time it was a much bigger event and a lot more people."
Taste of Pattonville was a large event which drew hundreds of people and brought lots of people to try all of the restaurants there.