Theatre One-Act Plays on stage April 17-18
Hang on for a minute...we're trying to find some more stories you might like.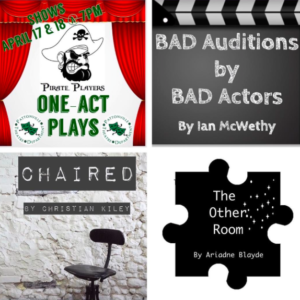 The Pirate Players will be presenting its One-Act Plays on April 17-18 at Pattonville High School in room A213. Bad Auditions by Bad Actors, Chaired, and The Other Room are this year's shows. Tickets are $3 and can be purchased from Ms. Corvera during school or at the door.
Senior Abigail Schnable is making her debut as a director for the show The Other Room by Ariadne Blayde.
"I'm beyond grateful that I have the opportunity to be a senior director. Getting to watch my cast grow and flourish over the past couple weeks has been one of the most rewarding experiences I've had. Knowing that I helped them get there is just the icing on the cake," Schnable said. "It really gives you an appreciation for everything that goes into making a show. I've done everything from the beginning: I picked the script, I picked the actors, I decided on lights and sound and costumes. It's all kind of empowering and it's made seeing the final product so much more rewarding."
Senior Kayla Bernhoester was casted as a lead role in Schnable's production.
"Being a lead is kind of stressful because I have a lot of lines that I have to memorize, but honestly it's worth it because it's a lot of fun."
This is Bernhoester's first and last performance in One-Acts.
"I regret not doing One-Acts sooner. I've made a lot of underclassmen friends that I'm going to have to leave," Bernhoester said. "It's already so late in the year and I know it's going to be hard leaving them."
Senior Audrey Baird has done One-Acts for two years and is leaving her legacy behind as an actor in Bad Auditions by Bad Actors.
"It's kind of sad because this is my last year being in One-Acts, but it's also really exciting because I get to work with my friends," Baird said. "It's rewarding that I can help the underclassmen and give them advice about how to get into character and act better."
Sophomore Alonna Gibson looks up to Bernhoester, Baird, and the other upperclassmen.
"I feel very privileged to be able to work with upperclassmen that have had more experience and are so talented," Gibson said. "I'm learning so much just by watching them."