Pattonville students and teachers run Go! St. Louis Half Marathon
Hang on for a minute...we're trying to find some more stories you might like.
T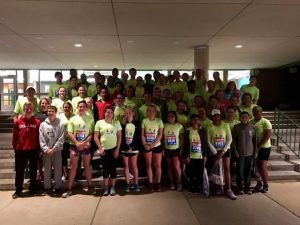 he students participating in the Pattonville Half Marathon Club have successfully completed the 13.1 mile run. The club has been an active group at Pattonville for several years and is organized through Go! St. Louis.
About four months ago, the club started training, running about three miles as a team and then slowly increasing their miles until they are up to twelve mile runs.
It was Katie Hutchison-Dibello's first year running with the club.
"I liked the training schedule a lot because we got to run often and everyone did it as a team," she said.
The group typically ran on Mondays and Wednesdays and then did the long runs with schools all across the St. Louis area on Saturdays at Forest Park.
The students received free shoes as an incentive, along with two shirts and a jacket once they finished the race.
On the day of the race, the participating students had to be at the school at 5 in the morning in order to get on a bus to be taken downtown for the race itself.
"It was an awesome environment downtown," Hutchison-Dibello said. "Everyone was so hype and supportive of one another so I had a lot of fun."
In total, 60 students and eight teachers completed the half marathon and after four months of training, the hard work paid off.
Below are the times of each student according to the Go! St. Louis website:
| | | | | |
| --- | --- | --- | --- | --- |
| Aivi | Aisha | 2:47:02 (12:45 pace) | 149th of 209 | F19U |
| Bodde | Henry | 1:50:24 (8:26 pace) | 39th of 134 | M19U |
| Brown | Ethan | 2:04:25 (9:30 pace) | 67th of 134 | M19U |
| Clark | Mady | 2:12:24 (10:06 pace) | 48th of 209 | F19U |
| Davis | Summer | 3:28:34 (15:55 pace) | 203rd of 209 | F19U |
| Dekoster | Nichole | 2:48:50 (12:53 pace) | 156th of 209 | F19U |
| Deutsch | Mackenzie | 2:34:39 (11:48 pace) | 119th of 209 | F19U |
| Duello | Madison | 2:55:05 (13:22 pace) | 164th of 209 | F19U |
| Duello | Alex | 2:02:58 (9:23 pace) | 64th of 134 | M19U |
| Dukes | Lauryn | 3:03:40 (14:01 pace) | 174th of 209 | F19U |
| Fatima | Sadiqa | 2:41:13 (12:18 pace) | 136th of 209 | F19U |
| Fisbeck | Michael | 2:19:57 (10:41 pace) | 92nd of 134 | M19U |
| Garcia- Blackwell | Isabella | 2:35:49 (11:54 pace) | 123rd of 209 | F19U |
| Gibson | Lucas | 1:33:11 (7:07 pace) | 10th of 134 | M19U |
| Gibson | Robert | 1:33:10 (7:07 pace) | 8th of 134, 83rd of 1,865 males, 98th of 4,540 overall | M19U |
| Goetz | Lydia | 2:42:24 (12:24 pace) | 138th of 209 | F19U |
| Hachmeister | Patrick | 1:36:33 (7:22 pace) | 15th of 134 | M19U |
| Harder | Laura | 2:17:40 (10:31 pace) | 70th of 209 | F19U |
| Harder | Logan | 1:47:34 (8:13 pace) | 34th of 134 | M19U |
| Hays | Taylor | 2:36:59 (11:59 pace) | 125th of 209 | F19U |
| Heidemann | Chase | 2:04:44 (9:31 pace) | 69th of 134 | M19U |
| Hutchinson-Dibello | Katie | 2:47:16 (12:46 pace) | 151st of 209 | F19U |
| Ives | Evan | 1:40:29 (7:40 pace) | 26th of 134 | M19U |
| Jones | Lauren | 2:37:00 (11:59 pace) | 126th of 209 | F19U |
| Kayser | Jacob | 2:18:38 (10:35 pace) | 90th of 134 | M19U |
| Lee | Ryan | | | No data |
| Loewenstein | Marisa | 1:57:30 (8:56 pace) | 19th of 209 | F19U |
| Lopez | Stephanie | 2:26:18 (11:10 pace) | 104th of 209 | F19U |
| Lyerla | James | 1:57:08 (8:57 pace) | 52nd of 134 | M19U |
| Maynard | Sean | 2:58:55 (13:39 pace) | 127th of 134 | M19U |
| McNeary | Katie | 2:20:39 (10:44 pace) | 87th of 209 | F19U |
| Minor | Tyrel | | | No data |
| Mitchell | Adam | 1:41:42 (7:46 pace) | 29th of 134 | M19U |
| Morgan | Jeffery | 1:35:57 (7:20 pace) | 13th of 134 | M19U |
| Patrick | Renee | 2:13:10 (10:10 pace) | 50th of 209 | F19U |
| Penning | Courtney | 2:47:10 (12:46 pace) | 150th of 209 | F19U |
| Perrin | Michael | 2:19:58 (10:41 pace) | 93rd of 134) | M19U |
| Rauscher | Nicholas | 1:52:31 (8:35 pace) | 44th of 134 | M19U |
| Reynolds | Ross | 1:09:04 (15:53 pace) | 18th of 18 | M19U (7K) |
| Sanchez | Itzel | 2:42:43 (12:25 pace) | 140th of 209 | F19U |
| Schrumpf | Emily | | | No data |
| Schrumpf | Abigail | 2:18:23 (10:34 pace) | 76th of 209 | F19U |
| Scoopmire | Scott | 2:35:39 (11:53 pace) | 110th of 134 | M19U |
| Shor | Daniel | 2:17:19 (10:29 pace) | 87th of 134 | M19U |
| Stowers | Abby | 2:14:22 (10:15 pace) | 56th of 209 | F19U |
| Stroker | Kennedy | 2:35:49 (11:54 pace) | 122nd of 209 | F19U |
| Thompkins | Micah | 1:33:11 (7:07 pace) | 9th of 134 | M19U |
| Urbina | Alex | 1:47:41 (8:13 pace) | 36th of 134 | F19U |
| Vitale | Rachael | 2:18:18 (10:33 pace) | 74th of 209 | F19U |
| Volz | Megan | 1:09:04 (15:53 pace) | 28th of 29 | F19U (7K) |
| Wagner | Noah | 2:14:11 (10:15 pace) | 83rd of 134 | M19U |
| Wedig | Grant | 1:39:46 (7:37 pace) | 21st of 134 | M19U |
| Wedig | Olivia | 2:03:11 (9:24 pace) | 25th of 209 | F19U |
| Welsch | Justin | 2:14:15 (10:15 pace) | 84th of 134 | M19U |
| Wilfong | Jacob | 1:39:27 (7:36 pace) | 19th of 134 | M19U |
| Woody | Angelica | 3:15:17 (14:54 pace) | 192nd of 209 | F19U |
| Wooten | Savanna | 2:48:48 (12:53 pace) | 155th of 209 | F19U |
| Young | Natalie | 2:28:xx (xx:xx pace) | xx of 209 | F19U |
| Yousif | Fahad | 3:24:36 (15:37 pace) | 132nd of 134 | M19U |
| Zarinelli | Gabrielle | 2:42:44 (12:25 pace) | 141st of 209 | F19U |
|  Staff runners | | | | |
| Christian | Shelley | 1:52:31 (8:35 pace) | 40th of 396 | F30-34 |
| Christian | Marcus | 1:48:49 (8:19 pace) | 60th of 225 | M25-29 |
| Klosterman | Richard | 1:50:53 (8:28 pace) | 26th of 173 | M50-54 |
| Klosterman | Nathan | 1:56:37 (8:54 pace) | 49th of 124 | M20-24 |
| McDaniel | Emily | 2:38:32 (12:06 pace) | 342nd of 435 | F25-29 |
| Fink | Victor | 1:48:49 (8:18 pace) | 59th of 225 | M25-29 |
| Saxton | Jacki | 2:47:46 (12:48 pace) | 378th of 435 | F25-29 |
| Dalton | Jessica | 2:47:47 (12:48 pace) | 342nd of 396 | F30-34 |