Tiepelman dives into a new sport this fall
August 31, 2017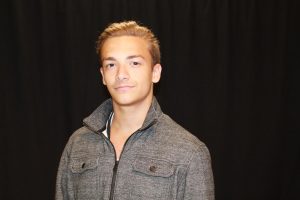 Choosing to join a new team this year, junior Brandon Tiepelman is competing this fall as a diver on the Pattonville swim team. He dove with his friends over the summer, and because of the need for new athletes, junior Austin Brower convinced Tiepelman to participate.
Pirates Sports Net: What is it like being a first-time diver?
Tiepelman: "It's really fun getting to meet a lot of new people and learning a lot of new dives. Although they're simple, they're still fun to do."
Did you go into your first practice knowing how to dive?
"I had a little bit of understanding on how to dive and my friend was on the swim team last year and knows how to dive, so he taught me some dives over the summer."
Are you involved in any other after-school activities or sports?
"I'm involved in Pirates Sports Network, I'm involved in wrestling, and I'm considering water polo."
How do you like being an upperclassman now?
"It's pretty cool, although the other diver on the swim team is an underclassman and he's been diving for 6 years so it makes sense that he's better than me."
What are your plans after graduating?
"Moving to San Diego, California, to become a personal trainer."
Why did you join PSN?
"I've always been interested in journalism and I enjoy both sports and writing, so I figured this would be a fun class to take. It's been pretty fun so far."