Pirate of the Week: Football player Charles Shelton
Shelton is the first player selected in a new series that will feature a standout athlete every week.
Hang on for a minute...we're trying to find some more stories you might like.
Pirate of the Week!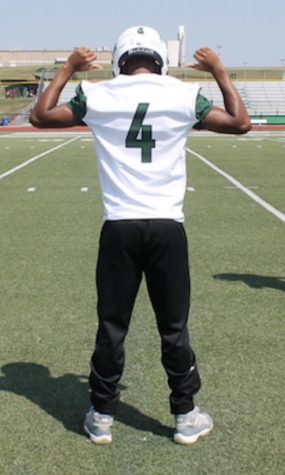 Through three weeks of the football season, the Pirates are 1-2, but there is one player I noticed that is working hard on the team and that is wide receiver Charles Shelton.
With heart laid out on the high school turfs and memories being engraved in his mind, there were some things this varsity football player has done to earn the first Pirate of the Week honor.
Like any other team, there are usually some developmental processes every sport entails and with an early record of 1-2, Shelton knows there is some work to do.
"We have our ups and downs on the field but it gets better with hard work," Shelton said. "All we have to do is come together as a team and work as one team."
Shelton also notices developments in not only himself but in other players around him as well.
"Yeah, I really do see a huge development in all players and everywhere I look around, I can see development in each player."
Being a football player looks as though it can be complex and hard to push through, from having an injury to having a defeat.
"One thing I remember is that our coach always tells us, 'Iron always sharpens iron.'"
After being a senior and making it to varsity football in high school, Shelton hopes he makes it to the big leagues of this sport after graduating.
"Hopefully I make it to the college level of football."
Your next chance to catch Shelton and the football team in action is at Pattonville on Sept. 8 against Kirkwood. The game kicks off at 7 p.m.