The 'Pattonville Plague' begins its reign of terror
October 5, 2017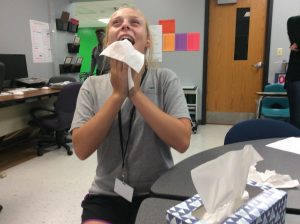 Every year, a wave of sickness floods the halls at Pattonville High School.
Students fallen ill are condemned to their beds but the brave will suffer through the sickness in a futile attempt to learn.
Will Polster has seen firsthand what the plague inflicts on its victims.
"I feel more tired than usual during my classes and it's hard to stay awake and focused but I have to keep caught up with my classes," he states and then gives a weak cough.
But students are not the only ones who are vulnerable to the persistent pestilence.
German teacher Ms. Stephanie Frerker has also been thwarted by the contagion.
"I had to miss a day of school last week because of my daughter's illness and then I also got sick," she said before patting her runny nose with a defeated tissue. "I definitely have less patience for my students when I'm not feeling well and I forget what I'm talking about sometimes."
Symptoms seem to include sore throat, cough, and congestion. Allergens are also gaining in strength during this time of year and only bring more devastation along with the plague.
Along with the general suffering and miserableness of being sick, a victim might experience nights of restless sleep. This results in even worse days and impacts recovery.
There are a few things you can do to protect yourself from illness: Eating healthy foods and getting plenty of vitamin C boosts your immune system, allowing it to better fight off pathogens. Getting a good night's rest every night can further strengthen your body as well. When you are sleep deprived, your body struggles to protect itself from disease.
If you are already sick, you can help prevent spreading your illness by coughing and sneezing into your sleeve.
If all of us unite and take these precautions as a whole, we may be spared this winter by the Pattonville Plague.