Key Club members volunteer at Cardinals game
Hang on for a minute...we're trying to find some more stories you might like.
On Monday, Sept. 25, Nacho Man was born, and Key Club members from Pattonville were there to witness the event first-hand.
During the game, Chicago Cubs shortstop Addison Russell took out a St. Louis Cardinals fan's plate of nachos while trying to catch a foul ball in foul territory near the stands.
While most people will remember that part of the game, Pattonville students involved in Key Club made a bigger impact on the stadium that night.
Students had the opportunity to volunteer at the Cardinals game and 16 members of the club worked on the first level of Busch Stadium collecting aluminum and plastic from the fans to recycle. Students from all grades walked around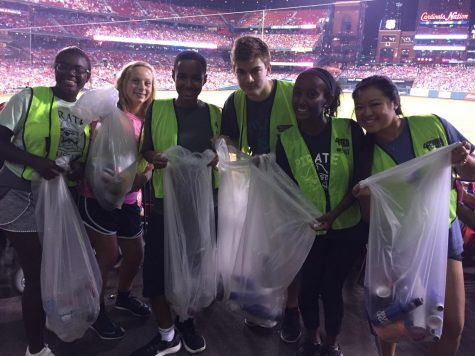 the ballpark with plastic bags to collect empty beer and water bottles.
Key Club sponsor Ms. Danielle Adams believed the Key Club field trip was successful.
"I think all of the kids had a blast," she said. "It was fun to see kids having fun while helping the environment."
Key Club is about serving the community and Adams hopes to take more field trips to help people inside and outside the school district.
"I think we can plan another trip back [to the Cardinals game] … and hold fundraising nights for elementary school kids."
The students also had time to enjoy themselves while at the game. When they weren't collecting recyclables, members enjoyed watching the iconic game from an up-close view, had time to relax in the usher break room, and enjoyed half-priced food.