Corrado wins Pirate Code Teacher of the Week
Hang on for a minute...we're trying to find some more stories you might like.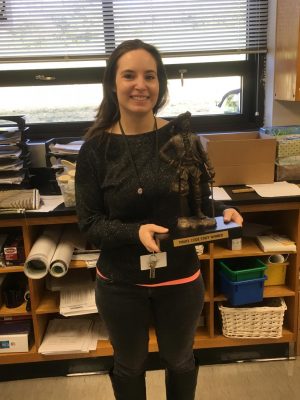 Ms. Amanda Corrado has gotten the award for the Pirate Code Teacher of the Week. The winning Pirate Code ticket that she gave was to freshman Alex Morschl who will receive a $10 gift card to Saint Louis Bread Co.
"Alex was being helpful to one of his peers, and he is respectful, kind, and always does his work," she said. "He is also polite, like if anyone in his class forgot a pencil or anything else, he would help the cause."
She is thrilled to be honored with the Pirate Code trophy.
"I am happy and exited and I am completely surprised by receiving this award."
Every week, a different Pirate Code Teacher of the Week will be selected from Pirate Code tickets that students have turned in.
Remember the Pirate Code. Be Respectful. Be Responsible. Be Involved.