Old football jerseys being sold to fans
Hang on for a minute...we're trying to find some more stories you might like.
Fans will feel like they are part of the team when they have a chance to buy old football jerseys this week. This sale is designed to help students match the state semifinal game theme of Green Out.
"It was Coach [Steve] Smith's and my idea," senior Nadia Maddex said. "I went to the jersey closet and sorted through them all, separating the ones that can't be sold from the one's that can."
The game at Vianney which Pattonville won 34-27 was a Pirate Spirit theme and the goal was to show Pattonville support. This week for the state semifinal game against Fort Zumwalt North, varsity football head coach Steve Smith has chosen Pirate Spirit once again.
He sent a message that was tweeted by @PHSGreenArmy: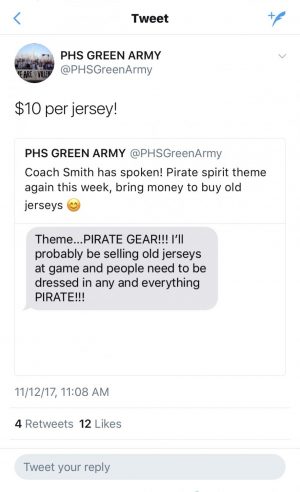 The jerseys will cost $10 a piece and will be sold at lunches beginning on Thursday and will be available at the game.
"They're old and not being used. They all have wear are tear. But, for the most part, they aren't that bad," Maddex said. "I took out the awful ones."
Maddex already has hers.
"I got first pick for sitting in that smelly closet, and I got my cousin's [Coran Coleman] number."
Tickets for the game are $7 and will be pre-sold during school. They will also be available at the ticket booth at the stadium beginning at 11:45 a.m.
The winner of this game will advance to the Missouri state championship game on Saturday, Nov. 25, in Columbia.