Pirates won 1994 state softball championship
Hang on for a minute...we're trying to find some more stories you might like.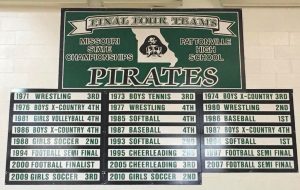 In 1994, Positive School math teacher Ms. Melissa Sparkman won the Missouri state softball championship with her teammates at Pattonville High School. She describes it as one of the longest games she's ever played.
"It was like 4-and-a-half hours long," she said. "We normally only play 7 innings and it was a very long game."
But with a nostalgic twinkle in her eye, she moved on to say: "But it was an exciting game."
Sparkman recalls both starting pitchers being very good and remaining on the mound the entire game.
So good, that it remained 0-0 until Pattonville scored the game-winning run.
Pattonville defeated Hazelwood Central 1-0 with 2 outs in the bottom of the 15th inning in what still stands as the MSHSAA Class 4 record for the longest championship game played. The team was coached by Mr. Mark Hahn.
The softball team was runner-up for the state title in 1993 losing to Parkway West 2-1 in 9 innings, so Sparkman describes taking the state championship as an ultimate victory.
She is very excited to see another team get the chance to win a state title for Pattonville and is looking forward to the state football championship game to be played on Saturday against Staley.
"It's very exciting to see another team go to state."
If you can't make it to Mizzou to watch the game, Like PattonvilleTODAY on Facebook and listen to the game being broadcasted by the Pirates Sports Net announcers. The game kicks off at 7 p.m. at Mizzou.