Ms. Olson makes good on her promise to football players
Hang on for a minute...we're trying to find some more stories you might like.
Back in August, Ms. Tracie Olson made a promise to the boys she knew on the football team.
"I told the boys that if they made it to state that I would make them lunch one day," Olson said. "And sure enough they made it so I had to go through with the lunch."
After the Pirates beat Fort Zumwalt North in the state semifinal game on Nov. 18, Olson knew she would have to make food for every player on the varsity football team.
Knowing she would have to make a lot of food, she knew that she would need some help. Olson, who teaches two sections of Culinary Arts, used this to her advantage, having each class cook food prior to the event which was held on Dec. 14.
The classes cooked food for the football team the week before and the week of the lunch.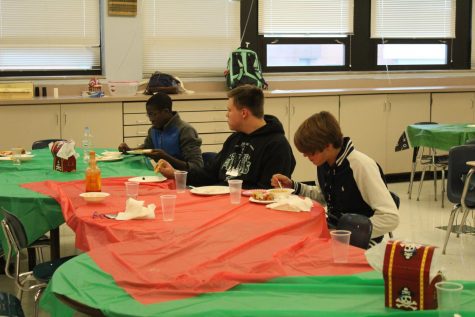 The Culinary Arts students made a variety of foods such as mostaccioli, buffalo chicken soup, macaroni and cheese, cookie cake, brownies and much more.
Players came in during their lunch shifts and ate together in Olson's room.
Staley High School won the state championship by 1 point after deciding to go for a 2-point conversion after scoring the game-deciding touchdown with 9 seconds left in the game.