VDT is the only team to have full roster receive Scholar Athlete T-shirts
Hang on for a minute...we're trying to find some more stories you might like.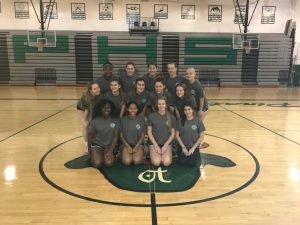 All 14 members of the Varsity Drill Team received Scholar Athlete T-shirts after each girl maintained a 3.0 or higher GPA for the first grading period. Varsity Drill is the only team to have all its members earn Scholar Athlete honors this year.
Athletic Director Bob Hebrank recognized this achievement.
"I was very happy and proud of this team," he said. "It's a big accomplishment that the whole team did that."
Varsity Drill is the only varsity team known to have achieved this honor, and it's not the first time they have done it. Not only did the team accomplish the feat this year, but the team has been awarded this for the past three years as well.
"It is a great team accomplishment and teams should strive to have this every year," Hebrank said.
Renaissance is the club in charge of awarding and distributing the T-shirts. Renaissance sponsor Ms. Beth Moritz said it's an amazing triumph.
"It is so impressive that multiple years in a row, VDT has had 100 percent of the team accomplishing this."
Moritz was a former Drill Team member and coach. She is proud of the organization that she used to call her own.
"It's clear the team focuses on academics as well as performance," she said.