The best way to spread Christmas cheer, is singing loud for all to hear
December 19, 2017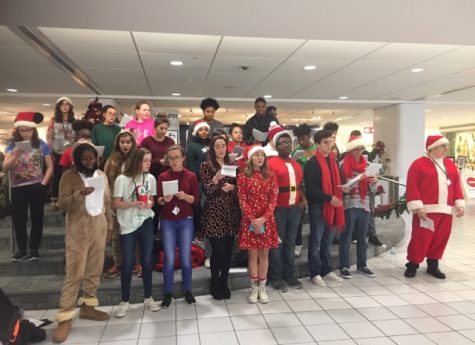 It's that time of year again when halls are decked with bells and lights are strung around the house: it's Christmas time!
Carolers are out and about, spreading Christmas cheer, and it just so happens, Pattonville's very own choir will be spreading that Christmas cheer too.
About 60 students dressed in their most festive attire piled onto two separate buses and went to St. Louis Lambert Airport on Dec. 14  to spread some Christmas love.
Students wearing Santa hats, Christmas sweaters, scarves, Santa suits, and reindeer onesies sang songs such as Jingle Bells, Let There Be Peace on Earth, Jolly Old St. Nick, and Deck the Halls.
The choir has been going caroling for the past few years with choir teacher Ms. Melynda Lamb, who is also in search of the Christmas spirit.
"I find that my heart fills with the peace and joy the most in rare quiet moments when I get to be alone," she said. "When I put out my Nativity that my grandmother gave me as a girl, I always save the baby Jesus for last. The moment I set him down is when Christmas really begins for me."
It is, the start of finals week however, and lots of people are stressing, which puts a toll on the Christmas spirit.
"The stress of the end of the semester, I am sure, makes it hard to focus on Christmas," Lamb said. "But, Christmas provides a lot of good positivity in the midst of finals."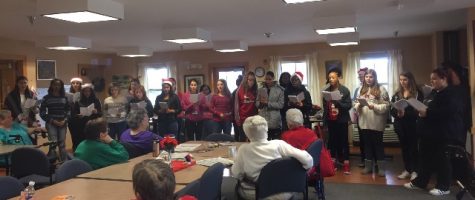 The caroling with the Pattonville choir is nothing new to Lamb.
"Caroling with the PHS Choir students has been a tradition for at least the 13 years I have been teaching at Pattonville. We have sung at both terminals of Lambert Airport, the Senior Adults of St. Ann, the St. Louis Zoo, the Metropolitan Square Building, a few different senior living homes, Northwest Chamber of Commerce, Maryland Heights Chamber of Commerce, and even in Springfield, Missouri," she said. "In that time, we have raised over $10,000 for local children's charities through the Christmas Carols Association."
The choir just finished a week of rehearsals and concerts where Lamb put in 35 hours just with the Chamber Choir for their performances at the St. Louis Symphony Orchestra. Being the busy woman she is, Lamb doesn't have all of the time in the world to go out and sing with her family as she does with the choir.
"With the many extra hours I spend with the choir students, we tend to spend all of our time in December just being together at home," Lamb said. "I did take my daughter's Girl Scout Daisy Troop caroling for the first time this year."
Caroling isn't just for the carolers, it's for whoever is willing to listen.
"Traveling can be quite a stressful experience. Many business travelers find it a welcomed change from their typical travels to encounter our students," shes said. "The workers at the airport, I think, appreciate it more than anyone. It is a refreshing surprise in a job that doesn't vary much day-to-day."
Some kids haven't or don't get into the Christmas spirit like most people do.
"If anyone wasn't excited, they didn't tell me," she said. "I always find it funny that the students who are the most excited each year are the ones who don't even celebrate Christmas."
Christmas music is everywhere this time of year: Stores, malls, cars, radios, iTunes … everywhere. Picking a handful of songs to perform out of the hundreds – maybe even thousands – of choices seems like a difficult task.
"I try to pick a few songs that are more winter-based or not sacred Christmas songs, like Jingle Bells or Deck the Halls," Lamb said. "We also always sing Sleigh Ride because we know it from our concert. When we go caroling, especially at the airport, it can be difficult to hear so we sing songs with really simple harmonies."  
For the Pattonville choir, caroling will continue on for a very long time.
"After 13 years, I plan to continue caroling as much as we can each year, as long as the district supports us."