Brown nominated for 2018 McDonald's All American Games
Hang on for a minute...we're trying to find some more stories you might like.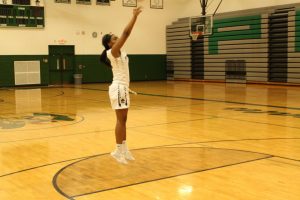 McDonald's unveiled this year's list of high school seniors that were nominated for a chance to play in the 41st annual McDonald's All American Games and Pattonville High School senior guard Tyra Brown was listed as one of the nominees.
This list has more than 700 top male and female basketball players from across the country and will be used by the Game's Selection Committee to identify the top 24 boys and 24 girls to play in the annual event. The teams will play March 28 at Philips Arena in Atlanta.
"The 41st McDonald's All American Games nominees list represents the most talented boys and girls in high school basketball, not only within their communities but representing the best in the country," said Morgan Wooten, Hall-of-Fame basketball coach and McDonald's All American Games Selection Committee Chairman in the official press release. "There has always been a strong basketball fan base in Atlanta and returning for this year's Games brings a new energy for our athletes as they look to the future."
Out of all the players in the nation, Tyra Brown was one of the few picked. [Note: On the official PDF, her name is listed under the state of Texas; not Missouri.]
"I actually heard from my AAU coach who sent me a text saying 'Congrats'. Afterward, all I could feel was shock and surprise," Brown said. "That's a big honor to be considered one of the best in the country and to be nominated, so there was some joy and tears."
The final roster will be announced on Jan. 16.
Brown, who has helped the Pirates (9-3) bounce back into the Top 10 of the St. Louis Post-Dispatch Girls' Large School Week 6 Rankings plans to "just keep going forward" and playing the game she loves.
The Pirates play their first home game of the season on Jan. 22 against McCluer North. The game tips off at 6 p.m.