8th graders attend High School Curriculum Night
Hang on for a minute...we're trying to find some more stories you might like.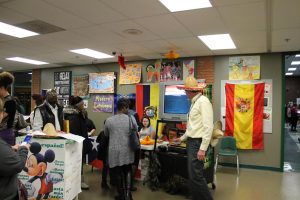 On Wednesday, Jan. 24, Pattonville High School held a Curriculum Night for incoming freshmen and current high school students to show them what classes they can take in the different departments. Parents and students were welcome to come up and check out the different booths and find out more information about classes and electives.
Families of the Class of 2022 first headed to the gym for a "pep rally" where they were told what the high school experience is like, what it's like to be a student at Pattonville, and even watched the cheerleaders and drill team perform while the pep band performed the Fight Song.
Afterward, they were able to roam around the commons and cafeteria until 8:30 p.m. visiting the different departments and getting an idea of what the high school has to offer them.
More than 25 academic and elective booths were set up, not only trying to impress the students and families, but also the judges because there was a competition between all of the booths for which booth was "most presentable" or the best decorated.
The English department (ultimately named the winner) had a Shakespearian theme with books, decorations and even served punch and candy. The Spanish classes had a bunch of wall hangings and decorations, including a guitar and sombrero, while the art department had lots of drawings done by students pinned up on boards.
The journalism booth, run by Mr. Brian Heyman and a few students, set up a Pirates Sports Net "live stream" with their video camera, showed the PattonvilleTODAY.com website, displayed a few past editions of the newspaper and yearbook, and showed off how they are using Aurasma in this year's yearbook.
"We encouraged people earlier in the day to follow @phsTODAY on Twitter by holding a trivia contest," Heyman said. "For people that followed the account, they were notified when a new question was asked and had to be the first person to come to the journalism booth and give the right answer to win a prize. Awards included Pirate Press T-shirts and St. Louis Cardinals calendars."
Students at the high school will be registering for classes on Tuesday, Jan. 30. "Stop Day" as it is commonly called will be a Modified A Day with Homeroom at the end of the day.