Students participate in Stop Day on Jan. 30
Hang on for a minute...we're trying to find some more stories you might like.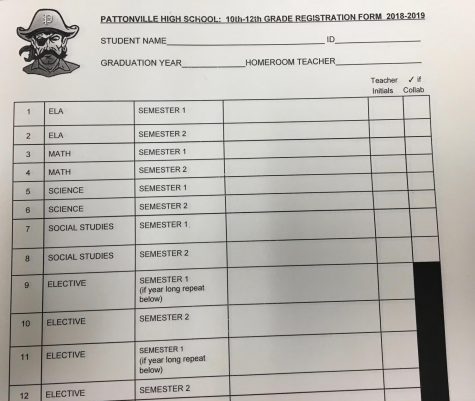 Pattonville High School students in grades 9-11 participated in Stop Day on Jan. 30. Students were able to sign up for their classes for the 2018-19 school year.
Prior to Stop Day, teachers and staff went over the courses available within their departments and student laptops were updated with the latest version of the 2018-19 Course iBook. The iBook outlines every course available for students to take.
Current freshman students like Jailah Broadway had the chance to choose their sophomore year classes.
"Since I'll be a sophomore next year, there are more choices in regards to the classes I can take. I'm looking forward to taking Human Body Systems."
While Broadway loved the idea of choosing classes, other freshman like Christian Hoosman were a little intimidated.
"There are too many choices to choose from," he said. "I think I need more information about the classes that are offered to help guide me to make the right decisions for my future."
Students were on an assembly schedule which allowed them time to have Homeroom at the end of the day. For 9th-11th grade students, this time was spent entering their desired classes into Powerschool.
Senior JaNiece Randolph went to different homerooms to help assist students with this process.
"It was fun helping the underclassmen during Stop Day," she said. "It made me feel good helping them plan classes for their upcoming school year."