SLIDESHOW Drill teams find success at competition
Hang on for a minute...we're trying to find some more stories you might like.
Both Varsity and JV Drill Teams competed at a competition held at St. Charles High School on January 27. The varsity team brought home a first place title in the 3A pom division and fourth place in the 2A hip hop division. The JV team brought home first in pom and third in hip hop.
Overall the competition was a success for both teams, but was bittersweet for senior Erin Bailey.
"I was happy after we danced pom and knew we had done the best we could have," she said. "Then when we took first, I was really excited."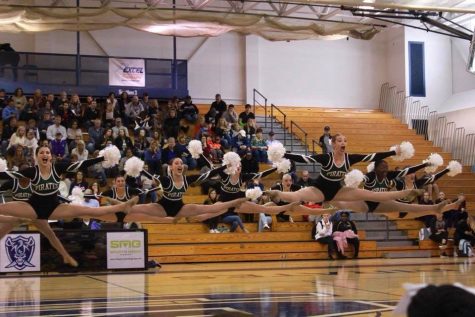 The varsity team competed a Beyoncé and Jay-Z themed pom routine. The routine is 2 minutes of skills including turns, leaps and strong arm motions. The routine is very fast-paced, and filled with lots of movement and formation changes.
Their hip hop dance is a mash-up of 90s songs and stylized moves. The very athletic routine stays true to the style of a 90s house party.
"The hardest part of hip hop for me is the stamina that I need in order to keep up the energy, feel and the execution of tricks during the entire routine," Bailey said.
Bailey said she is looking forward to listening to the comments and critiques from the judges.
"We want to make the dances the best possible version that they can be for our future competitions."
The Varsity Drill Team next competes at the state championships on Feb. 24 at the St. Charles Family Arena.