Curtains to open on "Beauty and the Beast" next week
Hang on for a minute...we're trying to find some more stories you might like.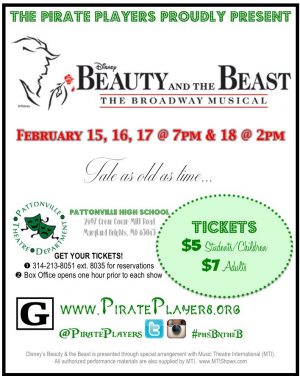 The Pattonville Pirate Players will be putting on the musical "Beauty and the Beast" next week. A "Tale As Old As Time" will be presented Feb. 15-18 in the Pattonville auditorium.
There's exactly one week until opening night and the company of the show is so excited to get it going.
"I play the role of Silly Girl #2," junior Taylor Wooten said. "This is my first show and I never knew how fast-paced everything actually was. I have seen a few shows but I never knew what actually went into it. We have made so much progress but in the words of Cogsworth, 'We've got a lot to do' to make sure everything runs clean with costumes next week."
The company of the show will have its night rehearsal on Tuesday night and hold its matinee rehearsal on Wednesday afternoon. The first show will be held the following night.
Junior Tiara James plays flute and is a member of the orchestra pit.
"Everything is happening so fast," she said. "Our first week playing with the cast was last week and it has been a pretty nice transition. The amount of practice we have had makes me sure we'll do great."
The cast has been working on memorizing lyrics and lines as well as choreography since Novemeber.
"There is nobody I would rather be playing than Lefou" senior Josh Royal said. "I get to have so much fun; he is so energetic and free spirited. Not only that, but I get the opportunity to perform alongside one of my bestfriends, William Pirrie, who plays Gaston."
After rehearsing this show for so long, stage manager Louis Johnson has gotten to see all of the progress of the company as a whole.
"It isn't just what happens on stage that helps the show progress, but also backstage, in the pit, lighting and sound and even costume crew," he said. "Everybody plays huge roles in putting this show together and I can't wait for people to 'Be Our Guest' and come see the show."
Come see "Beauty and the Beast" on Feb. 15-17 at 7 p.m. and on Feb. 18 at 2 p.m. Tickets for the show are $5 for students and $7 for adults.