METC opens with keynote speaker, Sarah Thomas
Hang on for a minute...we're trying to find some more stories you might like.
Keynote speaker Sarah Thomas gave tips on how to get connected with students, educators, and administrators around the world. She founded the organization Edumatch, calling herself an "Education Matchmaker."
"There are several individuals that work together to make a collective team," Thomas said during her presentation. "Prioritize the I's in teamwork, the people and the relationships."
Edumatch uses the power of social media to foster collaborations among educators around the globe. The non-profit organization has reached six continents, and has a global connection of about 23,000 people on Twitter.
Edumatch has published three books, one titled "A Snapshot in Education 2016″ featuring 20 different authors from around the United States.
"It's important to utilize social media such as Twitter chats," she explained. "Everyone has a voice and everyone has something to share."
Thomas shared how Twitter chats allowed her the opportunity to connect with other people. She began starting podcasts and tutorials in her area of expertise, and now she presents in various cities around the U.S.
"When you're online, make sure you look for deeper connections, get to know people on a holistic level. Maybe he or she is saying this because of the way he or she grew up or what he or she experienced."
Thomas explained how research is a key part in connecting with others.
"Research is not limited. There's research we do every day. In our own spheres of influence, take what you find and use it."
She emphasized the importance of sharing what you learn with the community and take action.
"After you solve your problem, it's your responsibility to help others," Thomas said. "Take it beyond your sphere."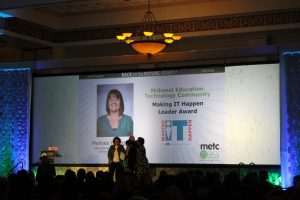 Before the opening keynote, educator Melissa Young was presented with the Midwest Education Technology Community's Making IT Happen Leader Award.
They announced that International Society for Technology in Education, or ISTE, is holding their Epicenter of Edtech from June 24-27 of 2018, in Chicago, Illinois. The organization is for professional development throughout the country.