Houf encourages leaders at #METC18 to rethink social media and boost school culture
Hang on for a minute...we're trying to find some more stories you might like.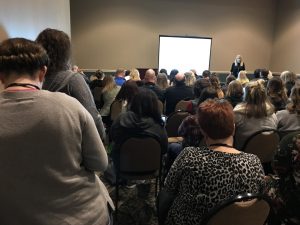 Beth Houf asked the standing-room only crowd in her 11 a.m. session at METC, "Who is telling the story of your school on social media?"
As principal of Fulton Middle School, she is the storyteller-in-chief and she talked about how to pitch and promote the positive things happening each day on her campus and how to engage students and staff as well in her session titled "Facetweetinstasnap: What? Rethinking Social Media to Boost School Culture."
"It's not the 1950s PTO any more and we can't always get all of our parents in one room," she said during her presentation. "It's not really about social media but it's how can we transform our communication to the way they are used to getting information now. It's thinking 'Hey, let's take the meeting to them' and making our news more virtual."
On Twitter, her school is sharing stories by using hashtags.
"Your account handle is how you identify yourself," Houf said. "The hashtag is how you organize yourself and we have everyone use #fmsteach from their own accounts."
She then uses TweetDeck to find and share those posts.
It's not the only social media account she uses at her school.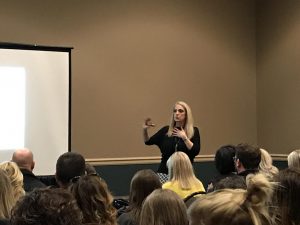 "Facebook though is the mom jeans of social media," Houf joked in her high-energy presentation. "Your parents, grandparents and great-grandparents are waiting for updates on there. Your students are not."
However, she loves using the Facebook Live feature for many different reasons.
"We are the face of the school, and when they can hear my voice and see my face, I feel like we are reaching them and building a stronger connection," she said. "We aren't hiding behind our computers and just sending out emails."
Parents can see the interaction between the students and the kids and she showcases this in real-time.
Fulton Middle School uses Instagram to share stories and post announcements for its families and parents, and is not afraid to try something new.
"Yep, we're even on Snapchat. It's where the administration didn't think we should go but it's where our kids are," she said.
She has students run that account and considers it a trust piece, but they only create Stories and post different kind of announcements.
"It's sharing things like that we are having sloppy joes for lunch because students aren't reading their email to find out about that."
Houf does not consider everything she is doing with social media more work.
"It takes 3 minutes and it's more powerful than spending 30 minutes to decide what to write in an email."
Fulton Middle School recently got a 100 percent on a PBIS site visit and decided to use social media to share that news.
"They don't give out medals for that, so I made one myself and shared it online," Houf said. "One of the first people to like that was a board member so we made our own news and shared it. Again, it's more interesting than reading a long email."
Students and teachers all contribute to the social media lifestyle at the school, and while she gives a lot of freedom, she said people are less likely to tear down systems they help to build.
"Social media is everywhere and we model digital citizenship," Houf said. "They can mess up, but we can't stop teaching them. We make an obligation to our kids to teach them these things."
There are other road blocks she has run into like people, policies, and products, and she has had to make tough decisions about how to manage the accounts.
"We do let folks comment because when you shut down what could be two-way conversations and make them one-way conversations, you close off a lot of connections."