#METC18 uses advanced technology for conference IDs
Hang on for a minute...we're trying to find some more stories you might like.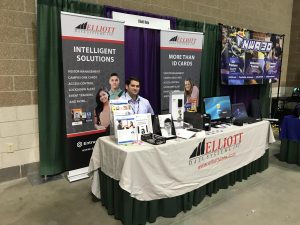 The Midwest Education Technology Community, or METC, conference was held at the St. Charles Convention Center Feb. 12-14. The conference included booths for teachers, educators, and students to find new ways of teaching or ways to help students learn in their classroom. There were also booths that helped schools improve their technology. One of those booths was Elliot Data Systems.
Elliot Data Systems creates many forms of IDs from college IDs to work/police badges. Your personal information is copied onto the card and can be seen under a black light. When scanning an ID like a driver's license, your information can be sent to the computer, and it displays on the screen or tracks it through the system.
Elliot Data Systems works with universities and high schools to install systems to record their information and can also be used as a key to let people into buildings.
For Pattonville High School, where every student must wear an ID as a form of security, this would make the process of entering school a lot easier.
After 7:23 a.m., students have to go through the front doors to check in, as a result of all other doors being locked, and get a slip for being tardy.
Installing the type of system that Elliot Data uses would allow students to park in the back lot of the school, and enter the school through the closest entrances. This would eliminate the time that students would be tardy from having to walk around the building, as well as limiting the distance they have to walk outside during the winter.
Elliot Data Systems will offer a "free trial" to any school or university, and if it goes well and the school likes it, they will continue with the program.