Green screen technology is showcased at #METC18
Hang on for a minute...we're trying to find some more stories you might like.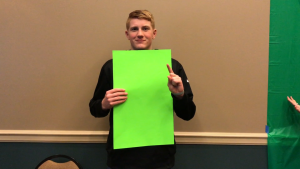 Everywhere you looked, there was green.
Green paper. Green plastic table cloths. Green Starbucks straws. Green Play-doh.
It was all to help teachers attending METC in St. Charles learn how to utilize green screen technology in the classroom.
"I've worked with all levels of students and have worked with teachers to create lesson plans," Dr. Kristen Mattson said. "Ideas for secondary students could include interviews in foreign language classes, health students filming PSAs, and coaches using video to mimic movements of athletes."
As the library media center director at Indian Prairie School District 204, she has helped student harness their love of video creation and turn it into an opportunity to learn content, collaborate with peers, and show what they know.
"You can really fit this into any content area if you are getting creative with the lessons."
Key materials needed are cameras, lighting and microphones.
"Lighting is very important when you are using green screen," she said. "You are not going to get the effect if they are standing in front of really bad light."
One way she has created something more permanent in her school is by dedicating a special space for green screen.
"I have a room that is painted with really bright green paint," she said. "We are a 1:1 Chromebook school so they use their built-in cameras to film but they are also using their phones to video each other."
She did suggest it might be a good idea to invest in microphones in order to get better sound for the videos.
"It's all about how big or how little you want to go with this."
There are cheap alternatives to spending thousands of dollars on equipment on Amazon.
"I went to the $1 store and it's getting close to St. Patrick's Day so I went in to see what I could get as green screen supplies," Mattson said. "They had bright green Play-doh and so I got that. Starbucks has green straws that are great for puppet handles. If they are cutting out figures they can remove the green straw."
The session was hands-on and interactive, and attendees used their own devices to practice the skills she was talking about. She encouraged the audience to play around with WeVideo, an app she promotes as being a go-to green screen editor.
"There are a lot of places where you can find copyright free material for your videos," she said. "We are teaching them to create this stuff, but we also want to make sure they don't do anything wrong by stealing other people's work."